Want something truly unique?
We create custom wedding invitation suites to suit your heart's desire.
Whether you know exactly what you want, or just have a few ideas,
we can work with you to create the perfect invitations for your big day.
Custom designs usually take 3-4 weeks to complete and pricing starts from $350.
Drop us a line here for a quote or to discuss your needs.
Read some testimonials from some of our clients below.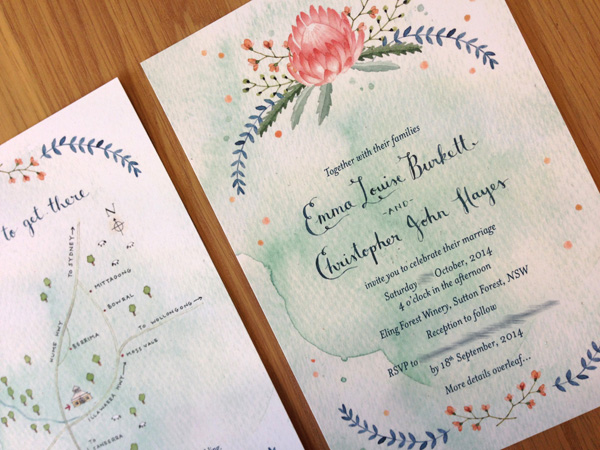 Testimonials:
"The best part of this whole wedding thing has definitely been the invitations! It has been so much fun and so easy thanks to you. Thank you for accepting to take a small job like ours and going above and beyond the call to cater for us - it is appreciated! We are so proud to tell friends and family that our invitations are your original art." - Michelle & Ben
"I just wanted to say a big thank you for all your work with our wedding stationary. You brought our ideas to life, and your designs were more beautiful than we could ever have hoped for! Thank you for being so wonderful to work with and for making the process so easy and stress-free." - Carly
"Thanks Daniella, you were beyond helpful for the whole invitation creation process! You were able to suggest paper for printing even though we were doing it ourselves. The invites have received so many compliments from guests already- they all think they are simple, special and different, which was exactly what we were trying to have. Words that guests have used to describe them are: natural, classic, gorgeous, delightful, unique..." - Emma & Chris
"We just received this very morning our beautiful printed invitations.We wanted to really thank you for your amazing work. The result is just wonderful, and we are very happy with it." - Yonith & Aurélien
"Thank you Daniella for everything you've done for us. Your execution and understanding of what we wanted was fantastic. We couldn't be more happy with the end result. You were so helpful throughout this whole experience and your attention to detail and your humour has been such a delight! It was so refreshing to know that we were in great hands and had one less worry :) We can't wait to work with you again in the future." -Rachael & Julian
"I really want to say a huge thank you for everything you did for the wedding. From the booklets and drink cards at the church to absolutely every little detail at the reception, it was consistently beautiful, whimsical and so pretty. People were so happy! Your lovely designs created the perfect mood - attention to detail but informal and relaxed, exactly what I love! I wasn't sure how much people would notice, but they loved absolutely everything - even the cake stickers!" - Livia & William